I watched a decent amount of the 2017 World Series Finals in Dubai (June 6-10). The event is not for ranking but for money, takes the top 8 players – men and women – who performed the best overall in the World Series tournaments from the previous season. The players are split up into 2 groups of 4, compete in a round robin where the top 2 players of each group then advance to the semi-finals. In other words, it's the best of the best of the best, beating each other up for a decent paycheck.
Except for the final itself, all the matches were best of 3 games. And it was, undeniably (in my mind anyway), some of the best, most exciting squash ever played. As I flip through my thesaurus, searching for superlatives to describe the event, all the words just don't seem to meet the standard I am looking for, so I'll invent some hybrid versions… it was… "unbelieveatastical"…. "extraincredipopping"… "phenomotacular"…
But now, because of all that "supercalifragilididdly-duper" squash, a debate has broken out amongst the faithful about possibly changing the scoring system from the best of 5 to 11 points, to a best of 3 version in the hopes of catching this lightning in a bottle more often and appealing to a greater audience.
Before you cry out in shock about how dare anyone questions the sanctity of the sport, remember, squash has already gone under some big transformations over the years. When I first picked up my first wooden 300+ gram squash racquet in 1976, scoring was to 9 only, but you had to have the serve to win a point. Techniques were a lot larger and slower back then, emphasis was on hitting 50 rails in a row before you dared hit anything else, and glass back courts were a rarity and a luxury to play on. Oh, how things have changed.
Since then, scoring moved to point-a-rally to 15 before moving to what we have now to 11, the height of the professional tin dropped 2 inches, all major events are on full glass courts, equipment has become lighter and stronger, techniques are snappier and more compact, fitness requirements have changed dramatically as the game has evolved into the dynamic accelerated version we see these days. So, is it out of the realm of possibility to accept further adaptions to the current form to improve our value and marketability?
In early March this year, the PSA trialed an actual ranking event with best of 3 scoring for the $100K Canary Wharf tournament in England. The first 2 rounds were best of 3 but the semifinals and final were then best of 5. Here are some stats from that format:
Average length of round 1 matches – 37.75 minutes (8 matches total played over 2 days, best of 3)
Average length of round 2 matches – 43 minutes (4 matches, best of 3)

Shortest 2-0 match (main draw) was 25 minutes.

Longest 2-0 match (main draw) was 44 minutes.

Average length of the semifinals – 69.5 minutes (2 matches, best of 5)

Final – 86 minutes (best of 5). Mohammed El Shorbagy won in 5 games over Tarek Momen.

7 of the 12 matches in rounds 1 and 2 ended up as a 2-0 score line.

All qualifying matches were best of 3 as well. Again, 7 of the 12 matches ended up as a 2-0 score.
I adore watching pro squash. I travelled to Chicago to watch a couple of early round sessions for this year's Windy City Open. One session is 4 matches, and they calculate 4 hours per. By the end of the second session, I was pretty 'squashed-out' and ready for a break. And none of the matches I witnessed went to 5 games. That being said, watching the first two rounds of the Canary Wharf, I was left wanting more from some of the matches. Even though the average length of the contests wasn't that short, I felt a little 'robbed' with the 2-0 wins and even the 2-1 results had the air of incompleteness. (Especially the Rodriguez – Marwan El Shorbagy match!) Also, from a player perspective, I think I would feel a somewhat cheated travelling all the way to London and be out of the event in 2 games and under half an hour.
After combing through an assortment of comments left by some current top players, the general consensus seemed to be mixed. (Read
here
) Time and fitness being common threads.
Best of 3 would mean shorter matches, and hence less value for money. Fitness requirements for the players would be impacted. One of the reasons we play is because the unique challenges that squash offers for the body and mind. Don't forget, however, that we aren't trying to make squash more attractive to our current fan base, the goal is to
expand that fan base and marketability
. It would be interesting to have the opinions of many in the Canary Wharf crowd – ask the
fans
what they think and prefer.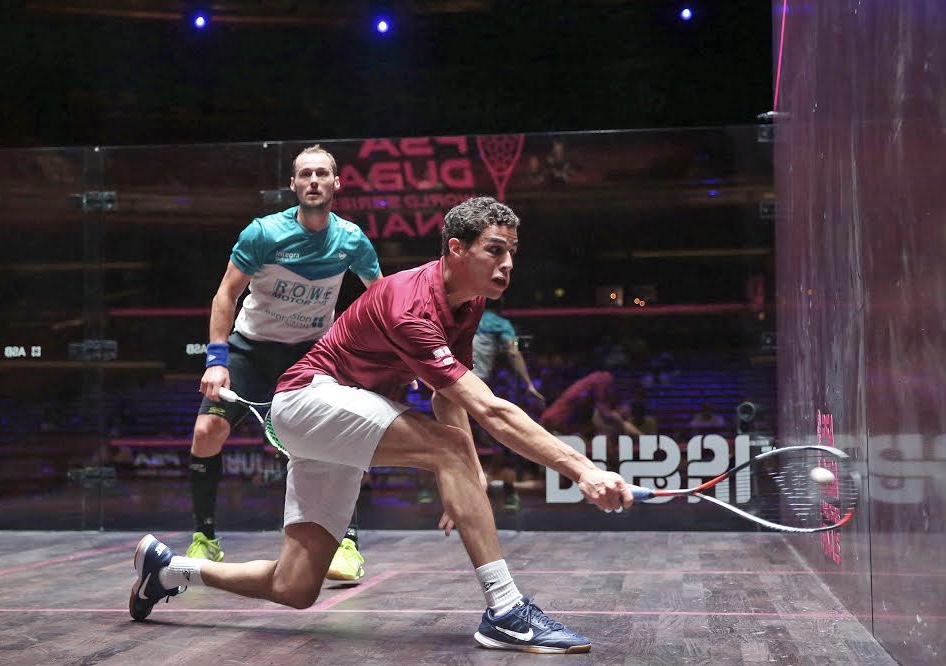 Current World #2 - Ali Farag
Ali Farag probably laid it out the best with a pros and cons argument that one can read
here
. (This was written after the World Series Finals last year). Definitely worth your time. Keeping an open mind is important and Ali wasn't completely opposed to the idea. For what it's worth, I am not 100% opposed either. I actually think this could be a format offered for the Olympics (if we ever get in) - Round robin best of 3 format for the preliminary rounds and then semis and finals best of 5. But, I don't agree that the best of 3 format is suitable for across the board ranking tournaments. It has its place: The World Series for example. Maybe the World Teams or European Teams events? The DAC Pro Invitational (!) like we did in December 2016.
Change is difficult. But since we are talking about it, why not take ourselves even further outside the comfort zone? As I mentioned above, the best of 3 format produced the most "scrumptilightful" squash in history. Is there a way to capture that spectacle but not lose the important objectives of the sport that caused most people the apprehension towards the best of 3 in the first place - namely the length of the matches and the fitness requirements needed to compete?
For the last couple of years, I have been more involved with the tennis world. As a squash player, I was never a huge tennis fan but for personal reasons that has changed. I have come to appreciate that tennis scoring is – simply – more suspenseful and theatrical. Games can be 4 points long. Being 0-40 down in a game is by no means an impossible position to come back from – but being 2-10 down in squash (for example) pretty much is. (How often do you see players tank a game when they feel they are too far behind to waste energy trying to catch up?) Deuce games cause mini-dramas on a constant basis, each player is permanently only a couple of points from winning a game. Upsets are more common, each winner is more valuable, each unforced error more impactful.
I am not suggesting that squash adopt the same terminology as tennis, but wouldn't breaking up the games into more 'mini' dramas keep the players and fans more engaged? If each player was only a couple of rallies from taking a game at any one time, wouldn't they be more intense? Wouldn't the fans be more absorbed? Take away the deuce aspect and you create sudden-death scenarios. There's drama right there. Maybe play games to 6, best of 9? Or games to 5, best of 11? Sixty seconds rest between games? Would hardly shorten the matches. A player would still have to win 30 points if they won in straight games as opposed to the 33 they have to win now. And shortening games would even up the possibility that the lower ranked player may win a game or two thus tightening up the contest making it more thrilling as well. Imagine winning 5-4 in the 11
th
! And more upsets are good for the game! A similar concept was actually suggested a few years ago on one of the squash websites
here
. (Daily Squash Report).
I'm just putting it out there. Food for thought. Let's not lock ourselves in a box and refuse to contemplate any 'upgrade' to the sport in the name of 'traditionalism'. Surely there is a way to have our 'delectasucculicious" cake and eat it too?