David Palmer – A Growing Legend
Think age is a barrier? Ask Nick Matthew, current world number 2 and gold medal winner at the Commonwealth Games last week. Nick is 34. To hold his current ranking at that age is remarkable considering the deep pool of young players coming up – especially from Egypt. But he is not the oldest player in the top ten. Amr Shabana holds that honor – he's 35, and is currently ranked 5th. In fact, I was surprised to see that there are only 2 players in the world top ten that are in there 20's. (World number 3 Mohamed El Shorbagy at 23 years old and world number 4 Ramy Ashour at 26 – both Egyptian.). The average age of the top ten squash player is 30.3 years.
Squash, it appears, is rather unlike tennis. Currently there are only 2 players in the tennis world top ten that are in their 30's. Federer is 32 and is considered by most to be past his prime. The other is David Ferrer (also 32) from Spain ranked 8. The average age of the top ten tennis player: 27.3 years. I'm not sure why this is the case – why can squash players extend their careers further? It's not the subject of this article, but certainly something to chew over and debate…?
David Palmer is the subject of this article. He is a very young 38. He retired from the PSA 3 years ago while he was still in the world's top ten. Three years is long time out of professional squash. That's not to say that he hung up his racquet, planted himself on the couch and ripped open a bag of crisps and can of coke. Although he doesn't train and play like he used to when he was on the world tour, he still plays regularly and keeps himself in excellent physical condition. We at the DAC can certainly attest to that since we have witnessed his extraordinary athleticism first hand during the PST events here and exhibitions. Palmer is a true professional and endeared himself to our members with ease.
Even at that age, Palmer was selected to represent Australia at the Commonwealth Games in the doubles portion of the squash event. His partner in the men's doubles was Cameron Pilley (he's 31 years old and currently Australia's highest ranked player at 20). He also played in the mixed doubles where he partnered with another veteran player Rachael Grinham. She's 37 and currently ranked 14 in the world. In 2004-2005, she spent 16 months as world number 1. Yeah – she can hit it.
And, take note, I am talking about the softball version of doubles, not the US hardball version. The court is the same length as a singles court but wider, and the tin is only 13 inches high as opposed to the 19 inches we are accustomed to here. They use the same ball as in singles. Scoring is best of 3 games to 11.
David Palmer and Rachael Grinham
Now, on paper, although strong, the Palmer – Grinham pairing were not favored to win the gold medal. Seeded three, they reached the gold medal match anyway where they were up against the English team of Peter Barker (world number 8, 30 years old) and Alison Waters (world number 6, and also 30 years old). It was the Australians who dominated the first game and took it 11-8, but the English pair who raced off to a healthy second game lead of 6-1. But Palmer is renowned to be a grinder, and Grinham has the experience to back him up. Inching back into the game, they saved 2 game balls before forcing a sudden death rally at 10-all, and a Peter Barker tin rewarded their efforts with a gold medal!
For the men's final – which followed immediately after the mixed final - Palmer and Pilley reached that stage beating the English pair in the semis of James Willstrop (world number 6, 30 years old) and Daryl Selby (world number 10, 31 years old) easily 11-4, 11-4. It would be a tough final against top seeded Brits of Nick Matthew (who won the gold medal in the singles event) and Adrian Grant (world number 22, 33 years old). Grant is a lefty too. They lost the first game 11-10 in 29 minutes, but battled back strongly to take the second 11-7 to force an all or nothing 3rd and final game. It was a back and forth encounter with England taking the early lead before Australia charged ahead to take a 9-6 advantage and 2 points away from the title. But England scraped back those 3 points to set up a tense last couple of rallies where Pilley – who has been recorded as the hardest hitter of a squash ball in the world – thundered a shot to length just out of reach of their opponents at 10-9 up to secure the win. Match length – 80 minutes,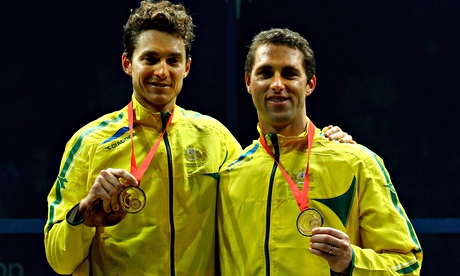 Cameron Pilley and David Palmer
And with that, David Palmer, at the sweet old age of 38, takes home 2 gold medals. An incredible achievement. He adds to his little baggie of titles which includes 2 World Championships and 4 British Opens.
Just a side note on the doubles itself: Since I couldn't watch of the matches live here in the US, I only saw a few snippets of highlights on the website. From that it was difficult to get a sense of how attractive the spectacle was. Initial descriptions that I read weren't overly encouraging, but I think that had a lot to do with the fact that most of the early round matches were rather one-sided. As the tournament progressed to the finals rounds, the reports coming out were mainly positive. Which is a relief – if squash is looking to get into the Olympics, then it needs events like this – in singles and doubles – to be a hit. It appears to have been a big one. You can decide for yourself what to think of it:
Squash Doubles
.
That being said, I'm not convinced that squash doubles should be played at all. Doubles courts are a rarity anywhere in the world (ever seen one??), and the players that compete aren't exactly doubles specialists. The only time they play it is during the Games. Seems strange to "invent" a doubles version of the game just to have more medals on offer. Not to take anything away from David Palmer – he still had to complete the world's best, and he won. He's still a Legend.