London Tournament – Sept 20-22
The expectations were high. They always are when heading off to play a tournament, as no one should be walking on the court with the attitude they are going to lose. There is commonly a fear of losing, but in the back of one's mind, we all know we can win. Four DAC members made the trip this year to London: Sante Fratarcangeli, Josh Slominski and Tom MacEachern entered the C draw, and Chuck Doyle played the D draw.
London is barely 2 hours away from Windsor, so I trusted that what a C level standard is in Windsor would translate accordingly. Apparently, it wasn't quite the case. As the heavens opened up over London on Friday night with a thunderous downpour, so did it rain down heavily on the DAC parade. All of our lads lost 3-0 first round and by Saturday afternoon they had all exited the consolation draws as well. It wasn't as if they played poorly, suffered unexpected losses, and have anything to be ashamed about. On the contrary, and Tom mentioned after his first match, it was an invaluable experience and certainly something that he should be doing more often. I hope the others felt the same. It is a nasty feeling to take a loss, but it is also so important to learn from them and turn it into something positive.
On Sunday morning, I refereed the D final. Two fellows from Toronto beating up on each other that one could have easily mistaken for a B level match. It seems that in Toronto, 'D' stands for: "Devastating Drop Shot"; "Deadly Drives"; "Death-Defying court coverage"; "Destructive Deception". A very entertaining contest to say the least. These guys would be quite at home at the 4.5 level at least in the DAC Classic. For next year we know—if you play C in Windsor, play D in London. For another point of reference, one of the Windsor players that played the 4.5 category at our tournament this year won the C consolation over the weekend in London. He lost first round in the C's.

Maria Toorpakai Wazir
One of the advantages that the entrants have at this event is the opportunity to watch the pros play. Unfortunately, none of our members stuck around on Saturday to do that – a huge mistake. Playing these events is not just about playing your own matches, but being able to learn from the best and enjoying the socializing side as well. Friday night showcased the women's pro final that featured Maria Toorpakai Wazir – the Pakistani lass now under the tutelage of Jon Power in Toronto. She is currently ranked 55 in the world and she was visibly too strong for her Dutch opponent ranked 52, as she took the final 3-0 in under 30 minutes. Maria has quite a bit of Power-esque technique in her. She steps up and volleys well, is a strong mover, but is prone to some unforced errors. I think she has to be a little careful and not be too much like Jon – his racquet skills were a one-of-a-kind and are rather difficult to replicate to say the least.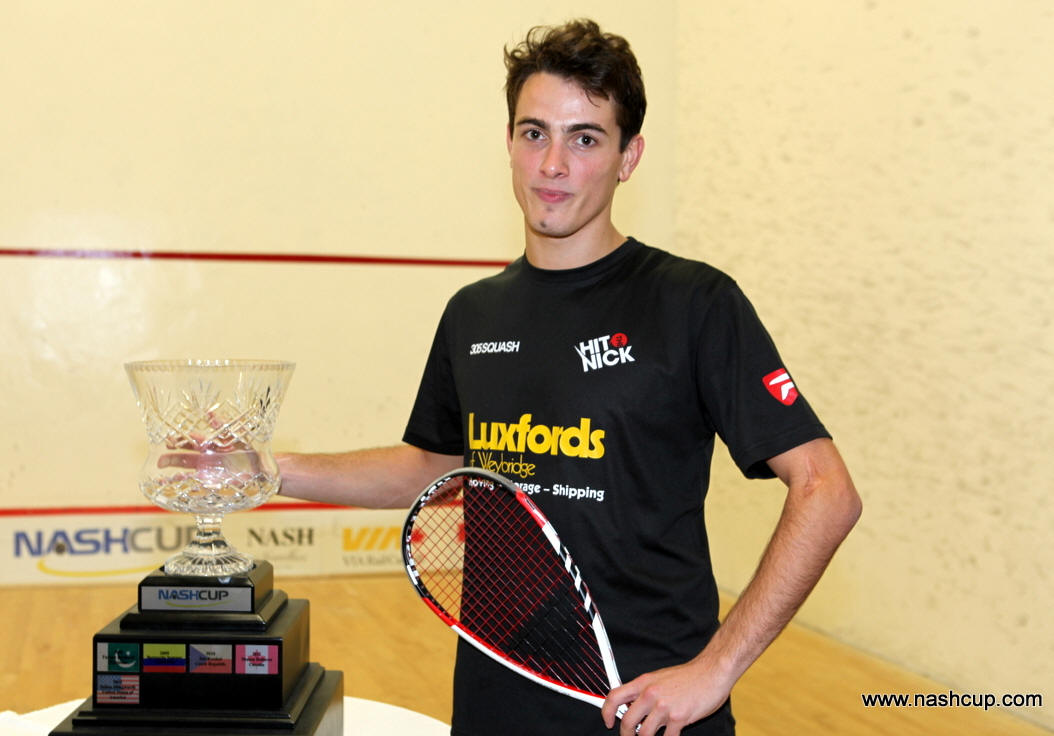 Joe Lee

The men's final on Saturday night featured Brit Joe Lee (ranked 37) and Canadian Shawn DeLierre (ranked 38). On paper, we were in for a long grueling match. Shawn is no stranger to marathon encounters and has no problems engaging the referee as often as humanly possible. I didn't see it, but reports had it that in his semi final there were about 60 let calls in one game alone. However, as good as Shawn is, Joe was a class better. He looked in complete control as he moved the ball around with pin-point accuracy and was virtually error free. He also managed to stay out of the way and minimize the amount of 'lets' which speaks volumes on his footwork and court coverage. Joe won 3-0 in 47 minutes, and it wouldn't surprise me if he cracked into the top 20 world rankings sometime in the near future.
As the three beer pong tables were being set up after the men's final on Saturday, I called it in with an early night. I was due to play my own final in the Men's Open against a young and fit Western University player that has been drooling for my blood since I beat him 11-9 in the 5
th
in Windsor not too long ago. His blood-lust paid off as he was just too steady for me. I lost 3-1, my body hating me for the effort. These events are getting harder and harder, I am definitely struggling to keep up any competitive level.
I will make a special mention to Dave Morrish – the London squash pro – for the excellent hospitality over the weekend. The members of the London Club who I very much look forward to seeing every time and make me feel so welcome like I belong there, and to Jay Nash. Jay is the main sponsor of the event and the driving force behind the tournament. (Hence the name "Nash Cup"). His enthusiasm is wonderful, and London is particularly fortunate to have him.
We can expect to welcome a big crowd of Londoners when the DAC Classic is scheduled for February 6-9. Make sure you have a beer or two with them. Maybe they can convince you to experience London in 2014.