McQueenie Cup Mar 31 – Apr 1
The DAC were McQueenie Cup Champions this year. Or, they would be, if the event was just on the Friday night. Our expectations for victory this year were not soaring into the stratospheric heights of overconfidence, especially since (once again) we were 1 man short for the singles competition. Fronting up with 7 of 8 players does make it substantially more challenging to win, but it wasn't out of the realm of possibility. The remaining players had little margin of error, minimizing our losses was imperative.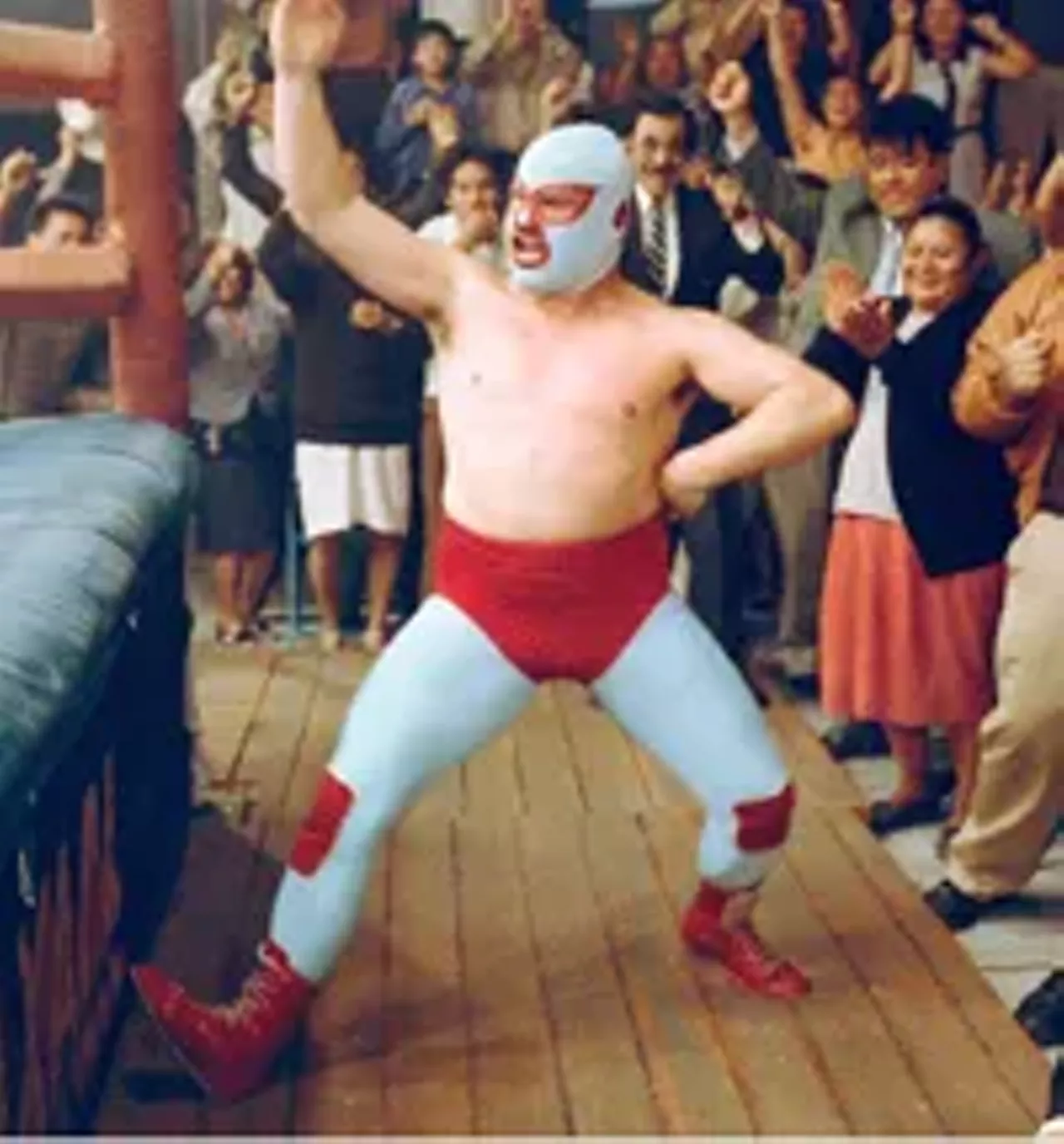 David de la Torre warming up
Spirits were high heading into the first afternoon of matches. Fresh legs, lungs, livers, and blood streams are an excellent formula for a successful outing. Even the 4-5 hour drive couldn't (and didn't) stop us from quickly adapting to their courts, finding a comfortable rhythm and for the most part dominating the day. Ryan MacVoy, Chas Bayer and John Rogers all took down their Columbus opponents 3-1, followed up by a 3-0 win by David de la Torre (who, by the way, has picked up a multitude of nick-names... "Nacho Libre" being the most widely used and accepted…!) the DAC was looking like the team to beat. Add on Brien Baker's two wins in his category and we could start to sniff the polish on the Cup… picturing our names etched on there for all of history to see… We did suffer a couple of losses though – after all, you can't win them all, right? – with Steve Brown and John Birgbauer, but even so the outlook seemed positive.
Then the sun went down.
I am all for celebrating a triumphant evening. The DAC up to this point were in first place. We were, however, just 1 round into the competition and Saturday was looming and promising to be a formidable task. And there really isn't any reason not to make that mission even more painful, right?
Welcome to Chicago. And raising a glass or two at the local establishments in honor of our almost faultless on court performances is part of the deal. The team also accomplished that mission with distinction. If socializing was part of the McQueenie Cup, we would have put the result out of reach from the other 5 clubs right there and then.
Now, I am old. I am all for learning new stuff, but I am too old for hanging out and appreciating the work required to close down a bar for the night. I wanted to be up and alert for the Saturday morning matches that were to start at 9.30am. Apparently, most of our team are not as old as I.
The next morning as I was munching on the provided muffins and slurping their coffee, our day did not exactly start out like we finished the one previous. On the contrary. Difficulty was an understatement. As commanding as we were 16 hours ago, the rollercoaster had reached its peak and was now hurtling downwards at a perilous speed. The 0-3 losses punctuated the morning, it got ugly quickly. We suffered through the session, picking up just one win thanks to Steve Brown, but being on the receiving end of 6 others. Our hope for the McQueenie Cup had ended.
But the matches had not. The afternoon session was begging and our players – with the fog lifted - were keen to redeem themselves. Nacho Libre managed to do so coming back from a 2-0 deficit to then steamroll his opponent the next 3 games. John Rogers also scored a win, and suddenly the wheels were starting to straighten out again. Ryan MacVoy couldn't do much against his opponent, clearly the strongest player in that category. And Chas Bayer played an excellent match against Audrey Berling (who was representing Toledo) going down in a tough 4-setter, one of the better matches on the day.
Steve Brown lost his final match 3-1 as did John Birgbauer (3-2), valiant efforts from both, but just running out of gas at the end. We ended up 4th. Just half a point from 3rd, something we could / should have achieved if our Saturday morning wasn't so upside-down. The University Club of Chicago won the Cup. As it turned out, I doubt very much that even with a 'clean' Saturday, we would have stood much of a chance anyway. Chicago won it easily, 40 points better than 2nd placed Toledo. Home city advantage, tough to compete with their extremely deep pool of players! Scores:
1.
University Club of Chicago - #%&@-load of points
2.
Toledo – Not so much, way behind
3.
Columbus – Even further behind, but a surprising result
4.
DAC – half a point back. Blah.
5.
St. Louis – half a point back from us. Coming 5
th
would have been painful for us.
6.
Union League Club of Chicago – just a handful of points. Thanks for coming boys.
This year was the first time there was a doubles portion to the event. Called the "Aubrey Cup", it is actually so named after the DAC Athletic Director Rex Aubrey. He held that position here for 40 years before Rob Barr took it over about 15-16 years ago. The DAC sent 2 teams to compete, which again is 1 team short of the maximum, meaning that we had no shot of winning. In fact only one club really could be victorious because St. Louis was the only one with a full 3 team contingent. They were also pretty good at it which helps.
I stepped in to play in the A draw with John Birgbauer and we won 1 of 3 matches. We didn't play too badly in the first two, the third was the one we want to forget. Bob Burton represented us in the 50+ category with Steve Brown, and unfortunately went down with an injury on Saturday and had to withdraw.
Saturday night dinner was an entertaining affair with a stand-up comedian who cracked us all up, some joke telling from the players that was a little hit-and-miss, but excellent company all around, the main reason we do these road-trips.
Of course, the DAC had to up the ante from the Friday night escapades and they carried out that operation with military-like precision. Once again, we won the night, Chicago did not stand a chance.
Team DAC: Chas Bayer, Ryan MacVoy, Steve Brown, Brien Baker, John Birgbauer, John Rogers, Nacho Libre


I want to extend some thank-yous:
1. To John Flanigan of the U Club for hosting and organizing the large band of misfits crashing your club. That extends to John Seidel who helped with the event and draws.
2. To the DAC team members – even though we weren't completely successful on court, we were successful off it. We all had a blast, what a great group!
3. Ryan MacVoy for driving me to Chicago in his Tesla, demonstrating the power of "ludicrous" mode to accelerate from 0 to 60 and almost making me pass out in the process but giving a much needed face lift.
4. Nacho Libre for offering to drive most of the rest of the team and showing us the power of an Ecuadorian accent. Much appreciated.
Next year's event should also be in Chicago. May I suggest that for us to have a chance of winning, we need to resist the calling for Friday night and hold off until Saturday? Oh, and we need an 8 man team. Goes without saying really.