London, ON, Sept 23-25
Over the summer, the London Squash Racquets Club underwent a complete renovation. It was sorely overdue. They shut down the club for about 4 months, ripped out their one North American hardball singles court, replaced it with a new pro shop and office, remodeled the bar area, and fixed up the locker rooms. Throw in the new carpet and furniture, and the face lift is reminiscent of a 60 year old walking out of the plastic surgeon's office with a body of a 25 year old.
During all the construction, the club also had the audacious task of searching for a new squash pro. Their previous fellow left to try his hand coaching in the Bermudas. It's no easy mission finding a worthy candidate to move to a small, remote 'city' such as London. But, every now and then a true professional arrives on the scene and the club can count themselves extremely privileged that Brit Dave Morrish packed up his suitcase from England, toasted up his final crumpets and scones, and brought his wealth of experience and knowledge to town.
The unfortunate side of all this was that the registration total for the tournament suffered. From 140 last year, to only 95 this year. However, it did not detract from the experience. At all. The more often I go the more fun it is. Relationships build and I feel exceedingly welcomed by their membership. The social atmosphere simply grows and grows.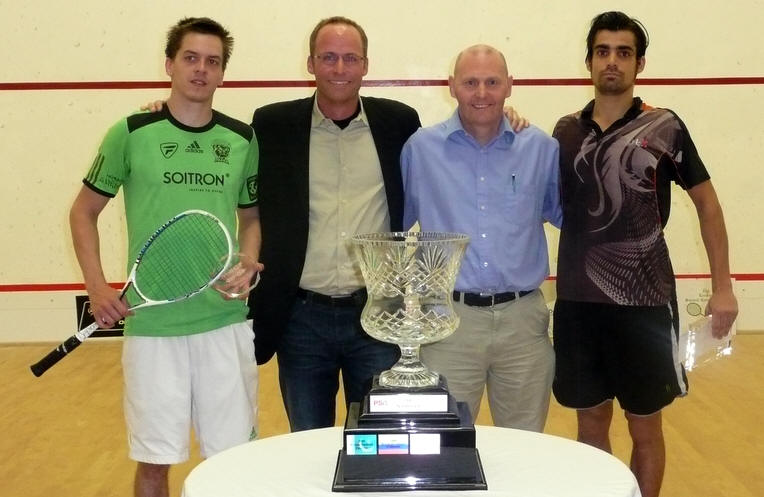 Left to right: Jan Koukal, Jay Nash (major sponsor),
Dave Morrish (London Squash Pro), Shawn DeLierre

Now to the squash. Firstly the pros. This year, the purse was $10,000. The most they have ever raised and consequently the standard of the squash was the best they have ever witnessed as well. I managed to watch one and a half semi finals and the final, and each match featured players around the 50 in the world mark, which pretty much guarantees they were all top quality. The most entertaining encounter was the semi final with Czech Jan Koukal (48 in the world), who won this event last year, against Egyptian Andrew Wagih (71). Wagih's style is goes against all conventional teachings – which is rather typical for an Egyptian. Rather than establish a good length and wait for the opening to attack, Wagih simply attacks from shot one. Drop after drop, nicks, angles, he throws the kitchen sink at his opponent without hesitation. Koukal is more a grinder and was forced to do exactly that for the duration of the match – all 79 minutes of it. Of course, with Wagih's gumption to go for so many 'winners', he also dies by the sword. A couple of crucial unforced errors in the end of the 5th game cost him dearly and he lost 13-11. In the final, Koukal met up with Canadian Shawn DeLierre (54), another grinder. The four games these two played took longer than the 5-set semi, and although there were many long and engaging rallies, there were also way too many interference calls and referee involvement. The standard of squash was outstanding, but the amount of discussions diluted the quality. DeLierre outlasted the Czech to win 3-1 in 91 minutes.
The amateurs. James Van Dyke was our sole representative this weekend as he tried out in the C draw. It was a tough slog for him as he lost his 2 matches and naturally was disappointed. However, he did feel that if he played to the level he knows he can, he would have been very competitive. Having tournament experience and playing in such environments is irreplaceable and hopefully he will travel to events more often.
I played once again in the open, and once again every match I played was against a lad from the Western University Squash team. Younger (obviously), faster, fitter, better tolerance to beer, more hair (and darker), and baggier clothes, the only thing going for me was experience. Shot selection played a big part in my victories, and couple that with the uncanny ability of my opponents to find the tin at the most inopportune moments, helped me squeeze out a 5-set final. And, once again, my body is not particularly pleased with me and making me pay.

Whooping it up. So popular is the after-pro-final-beer-pong-event, it is now announced at the presentation and is part of the program. Two tables were set up this year (on their doubles court), and ping-pong balls were bouncing, splashing and rebounding for intense beer-sculling action. In addition, since apparently people just can't wait to guzzle willy-nilly, flippy-cup was also started with teams of four going at it non-stop. The beer stopped flowing around 11pm as everyone was forced to shuffle (stagger?) 100 yards down the street to the bar which is a big supporter of the event. Moans and groans were initially heard, but immediately stopped when they realized beer would be served their too and waiting for them were plates of wings and some of the best nachos you'll ever taste. (That's not to say we didn't "whoop it up" on Friday night as well. Because we did.)
As always, it baffles me that more members do not make this easy trip. You simply cannot not enjoy yourself. It will be on the same time next year.