Nash Cup - September 26-28
The matches were tough. Competitors were determined to give it their all. Emotions ran high not just with the players, but through the enthusiastic on-lookers as well. Thrills of victory were equally met with the agonies of defeat. As the tournament went on, it was clear that ball control was becoming more of an issue. Contestants were now relying on luck rather than skill, it was becoming harder to focus, stand up, how far could they push themselves before the imminent collapse? Minutes turned into... longer minutes... the field dwindled and in a shock result, most of us couldn't really believe who was the lone survivor...
... but enough about the beer pong.
The real reason behind London's Nash Cup is the squash. I forget how many years I have played this event, the novelty doesn't seem to wear off. It does, without a doubt, get tougher every year to compete. I only had 2 matches for the weekend, and it still took me almost 3 days to get rid of the muscle soreness. Soreness, it seems, that appears in parts of my body that it never used to. I can blame most of that pain on my finals opponent, Bruce Burrowes. Bruce is Jamaican, his accent thick and rich. If you haven't met him, you picture a stereotypical Rastafarian in your head, but Bruce is not stereotypical. Nor is his squash.
However, like many other Jamaicans, he can run fast. That's not good news for a 43 year old. The insolence of actually running down my "winners" is unreservedly disrespectful. Keeping me on court so long, utterly cruel. But handing me a 14-12 in the 5th victory... now that was exquisite. In all seriousness, I got away with one. Nothing more than experience dropped me (literally) over the line, Bruce ran me ragged.
One of the perks of playing London is being able to watch the professionals. The Friday evening featured two men's semi finals. Luckily, I do not make my living as a clairvoyant. I would be destitute if that was the case. Last year's winner, Joe Lee from England (world number 34) was my favorite heading into the event and

he was up against his countryman Eddie Charlton (world number 51). The first two games were rather one sided - in Eddie's favor. It looked like it was going to be a 3-0 win to the underdog, but the third was a complete reversal as Joe rolled through it 11-3. With all the momentum going into the 4th, Joe appeared to have steadied the ship, but he rolled his ankle 2 rallies in and was forced to retire.
The second semi had unseeded German Jens Schoor (world rank 69) against second seed Karim Ali Fathi from Pakistan (world rank 48). This contest was a lot closer even though the word on the street was that the Pakistani was going to win 3-0. Jens battled from 2 games to 1 down and with plenty of guts and determination pinched the 5 game 11-8.
The third match on the Friday was the women's pro final. Egyptian Kanzy El Defrawi (world number 61) certainly went in as favorite. She only dropped 12 points combined in her first 2 rounds, and won the semi 3-0 as well. She was facing off with Canadian Hollie Naughton (ranked 71) who had a tougher time reaching the final, her second match a tight 5-setter. Even though the girls are ranked just 10 places apart, the squash didn't reflect it. On this particular day, El Defrawi was clearly dominate in all aspects of the game. Naughton looked a little impatient and too often forced the issue only to continuously rattle the tin. The 3-0 took less than 30 minutes.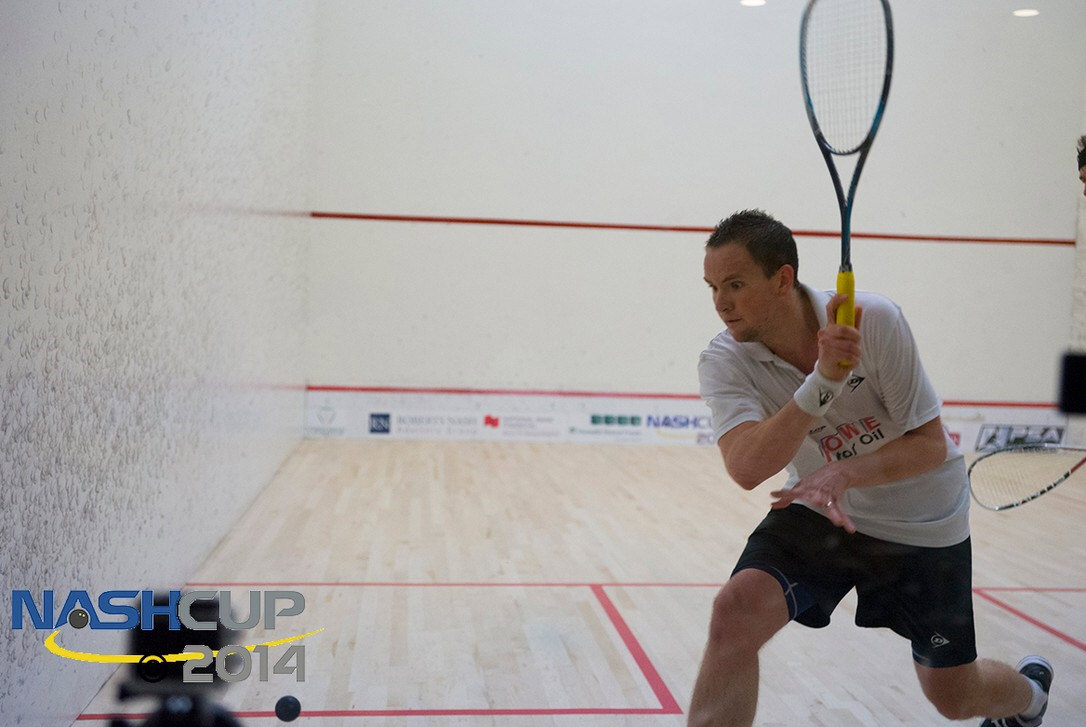 Jens Schoor. In the zone!
The men's final on Saturday will be remembered not for the length of time it took, or the excitement, or the closeness - because it wasn't - but for the remarkable performance of Jens Schoor. Based on the two semis, I had thought Eddie would take the title either 3-0 or 3-1. Again, no pay day for "Mick the Predictor". What a horrible clairvoyant I am. Jens was sublime. Jens was jumping out of his skin. Jens couldn't have hit an error even if he wanted to. Jens took poor Eddie to task and cleaned his clock 3-0 in just over 30 minutes. Jens was also overly ecstatic in his victory - he deserved to be.
As I say often enough, the only disappointing aspect of the weekend was that no other DAC representative joined me. You are missing out. Opportunities like these don't come up often and it surprises me no one takes advantage. It's an easy drive, a wonderfully social club, much sought after tough squash, invaluable experience, and not a budget destroyer.
Lastly, endless thanks needs to be handed out to the London Squash Club for hosting - Rob Doherty, you went above and beyond; Tom Panabaker, I appreciate your generosity; Ron Henry, I owe you a gatorade amongst a couple other drinks!; and all the wonderful members too many to mention... except for Shrini, you permanent advertisement for whitening toothpaste, one simply cannot be not happy to see you. And to the man that makes it all possible - the one who puts it all together, sponsors it, promotes it, plays in it, emcee's it. The one and only 2014 Beer Pong champion... Jay Nash!